LEDAK
Suitable for use
Office
School
Other
Basic description
The modern design and specific style that is the lighting LEDAK. It will fi nd its use mainly in shops where the big emphasis is put on design. The massive aluminium body provides the heat sink. The scattering of the light is provided by an optical cover from PMMA desks with a mutually cooled surface which off ers perfect lighting eff ectiveness. The lighting is fixed by four stainless wires.
LED module
LED modul THOME Lighting
Power Supply
OSRAM / HELVAR / TRIDONIC
Distribution of Luminous Intensity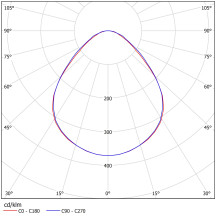 1 LEDAK.jpg
Do not hesitate to contact us by email or telephone. We will be pleased to provide you with expert advice and recommend the ideal lighting solution.