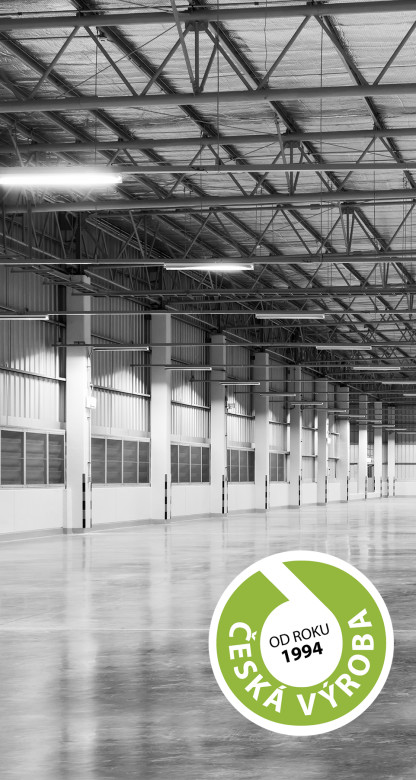 About company
We are engaged in the design, development, manufacture and selling of LED luminaires. Our manufacturing plant is located in Kamenický Šenov, where we have been producing luminaires for industrial and commercial projects for the past 25 years. The company headquarters are located in Prague.
Our scope of offer includes lighting solutions ranging from small premises and offices to large logistics buildings and public lighting. 
Our qualities have been already verified by






































































Lighting by Thome lighting
We are convinced that our technological solutions bring maximum effectivity and full use of the latest LED technologies from renowned producers such as Cree, Samsung, LG, Philips or Osram. The connection of our technology with components of these brands, which are on the top of the world market, guarantees a long lifetime, maximum effectivity and price availability of product.
Certified luminaires
Delivery of our LED luminaires include complete documentation, ISO certificate and homologation from accredited laboratories. The products meet ČSN and European standards. THOME Lighting s.r.o. is a Czech manufacturer and specialist in custom manufacturing of LED lighting for industry and public lighting. It is engaged in the production of luminaires for both exteriors and interiors.

Energy-saving lighting
With our tailor-made solution, you can save 50-80% on energy bills. We will also help you to reduce the lighting system maintenance costs.

Luminaires installation, replacement and reconstruction
We arrange for the installation of luminaires by certified electrotechnicians, who can also provide maintenance and service of luminaires.

Free lighting audit
We offer free lighting audit. Please contact us via the Inquiry Form for more information.
Czech lighting producer
Watch with us in the video showing how the whole process of development and production of LED luminaires is carried outs...
Our production
The development of technologies and luminaires as well as the production of luminaires by THOME Lighting s.r.o. is now taking place in two newly built production halls in Kamenický Šenov in northern Bohemia. The company is currently employing 40 people.
References and Realization
Do not hesitate to contact us by email or telephone. We will be pleased to provide you with expert advice and recommend the ideal lighting solution.